Anandpur Sahib (the holy City of Bliss) is one of the holiest places of the Sikhs, second only to Amritsar. Located about 95kms north-west of Chandigarh. Anandpur is framed between the Shivalik hills to the east and the Sutlej River farther away in the west.
Anandpur Sahib sometimes referred to simply as Anandpur, is a city in Rupnagar district (Ropar), on the edge of Shivalik Hills, the Indian state of Punjab. Located near the Sutlej River, the city is one of the most sacred places in Sikhism. The ninth Guru, Guru Teg Bahadur, purchased the site from the ruler of Bilaspur in the year 1665 and founded Anandpur Sahib near the ruins of ancient Makhowa. He called it Chak Nanki after the name of his mother. The town became prosperous and reached its zenith in the times of Guru Gobind Singh, who spent 25 years of his life here.
Takht Sri Keshgarh Sahib:
Anandpur Sahib is home to Keshgarh Sahib gurudwara which is one of the Five Takhtas in Sikhism. It is the birthplace of the Khalsa, which was founded here by Guru Gobind Singh in 1699. Some of the weapons of Guru Gobind Singh are displayed here.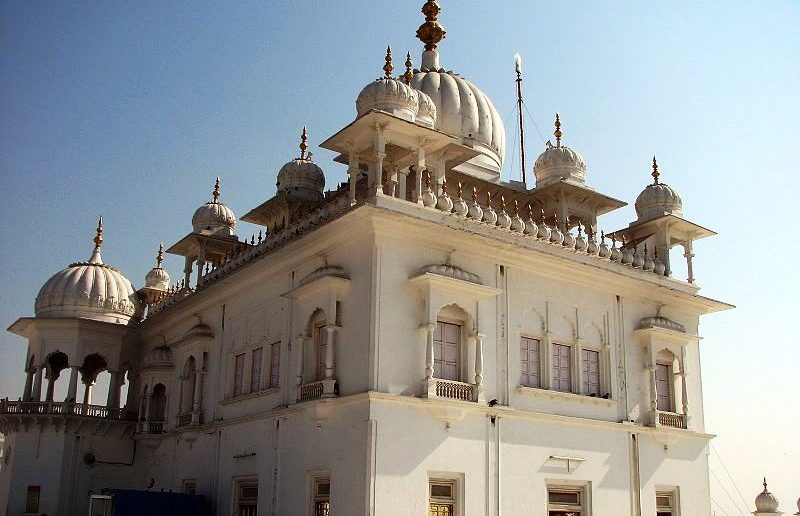 Other Gurudwaras of Anandpur:
Gurdwara Sisganj: built by Ranjit Singh to mark the place where Guru Tegh Bahadur's severed head after his execution in Delhi, was cremated in 1675.
Gurudwara Bhora Sahib: A three-story domed Gurdwara which was the residence of Guru Teg Bahadur.
Gurudwara Thara Sahib: A 5 square meters (54 sq ft) platform in the front of Damdama Sahib where Bhai Kripa Ram Dutt along with the other 16 Kashmiri Pandits sought his help in 1675. They came to seek protection from Aurangzeb and requested Guru Teg Bahadur to save them from forcible conversions to Islam.
Gurudwara Akal Bunga Sahib: This Gurdwara is opposite to Gurdwara Sis Ganj Sahib. It was built by a pujari named Man Singh in 1889. Here Guru Gobind Singh after the cremation of the "head of Guru Teg Bahadur" had delivered a sermon after the beheading of his father Guru Teg Bahadur in Delhi.
Gurudwara Damdama Sahib: Close to Gurdwara Sisganj Sahib, it is also called Guru ke Mahal. This Gurdwara remembers the residential quarters of Guru Tegh Bahadur.
Gurudwara Manji Sahib / Gurudwara Dumalgarh Sahib: Guru Gobind Singh used to train his sons here.
Gurdwara Shaeedhi Bagh: In the early days of eighteenth-century this place was a big garden. During skirmishes between Sikh Army and Bilaspur Army, many Sikh soldiers laid their lives here in this garden, hence this place is termed as Gurdwara Shaeedhi Bagh.
Gurdwara Mata Jit Kaur: Mata Jit Kaur, wife of Guru Gobind Singh had a vision "Divya-Drishti" of the atrocities and cruelties on Sikhs and young sons. She was cremated near Quilla Holgarh Sahib.
Gurdwara Guru Ka Mahal: It was the first building of Chak Nanaki, Anandpur Sahib. The foundation stone was laid here. Guru Gobind Singh, Mata Gujri, Mata Jit Kaur, Mata Sundar Kaur, Mata Sahib Kaur and four sons of the Guru had been living here: Jujhar Singh, Zorawar Singh, and Fateh Singh were born here. Gurdwara Bhora Sahib, Gurdwara Manji Sahib, and Gurdwara Damdama Sahib are part of the Gurdwara Guru Ka Mahal Complex.
Anandpur Sahib on the Map:
Sources: SikhiWiki and Wikipedia