Jog Falls is the second-highest plunge waterfall in India, Located near Sagara, Shimoga District of Karnataka state, these segmented falls are a major tourist attraction. It is also called by alternative names of Gerusoppe falls, Gersoppa Falls and Jogada Gundi.
Jog Falls is created by the Sharavathi River falling from a height of 253 m (830 ft), making it the second-highest plunge waterfall in India.
Sharavati, a river which rises at Ambutirtha, near Nonabar, in the Thirthahalli taluk and takes the north-westerly course by Fatte petta, receives the Haridravati on the right below Pattaguppe and the Yenne Hole on the left above Barangi. On arriving at the frontier it bends to the west, and precipitating itself down the Falls of Gersoppa and passing that village (properly Geru-Sappe), which is really some 29 kilometers distant, discharges into the sea at Honnavar in North Kanara.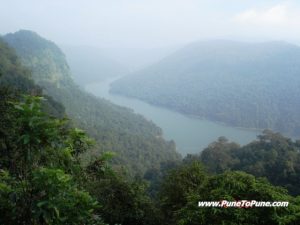 The Sharavati, flowing over a very rocky bed about 250 yards wide, here reaches a tremendous chasm, 290 m (960 ft) in depth, and the water comes down in four distinct falls. The Raja Fall pours in one unbroken column sheer to the depth of 830 ft (250 m). Half-way down it is encountered by the Roarer, another fall, which precipitates itself into a vast cup and then rushes violently downwards at an angle of forty-five degrees to meet the Raja. A third fall, the Rocket, shoots downwards in a series of jets; while the fourth, the Rani, moves quietly over the mountain side in a sheet of foam. The Tourism Department has built steps from the view point till the bottom of the hill where the waterfall can be seen at the opposite side. There are approximately 1500 steps built to reach the bottom of the hill.
Associated with the waterfall is the nearby Linganmakki Dam across river Sharavathi. The power station has been operational since 1948 and is of 120 MW capacity, one of the largest hydroelectric stations in India at that time and a small source of electric power for Karnataka now. The power station was previously named Krishna Rajendra hydro-electric project, after the King of Mysore at that time. The name was later changed to Mahatma Gandhi hydro-electric Project. It was served by Hirebhaskara Dam until 1960. After 1960, due to the ideas of Sir M. Visvesvarayya, Linganmakki Dam is being used for power generation.
Before the onset of monsoon season, when there is not much water in the Linganmakki dam, the Jog Falls are only a pair of thin streams of water trickling down the cliff, as the water collected in the dam is exclusively for generation of electricity; during monsoons local rain-water is the source of water to the falls.
How to Reach:
Nearest Railway Station (& distance to the location):
– Talaguppa and SAGAR(SRF) : For Sagar 30 km
Nearest Bus Station: Sagar
Nearest Airport (& aerial distance to the location):
Domestic: – Hubli Airport (HBX) : 130 km | Mangalore Airport(Formerly Bajpe Airport) (IXE) : 135 km | Pune Airport (PNQ) : 500 km
International :- Bengaluru International Airport (BLR) : 340 km
(Source: http://jogfalls.in )