Himachal, UP & MP Chapter – Summary
Destinations: Rupnagar > Chandigarh > Kurukshetra (Haryana) > Panipat > New Delhi > Vrindavan (UP) > Mathura > Agra > Dhaoulpur (Rajasthan) > Gwalior (MP) > Dhule > Nashik > Pune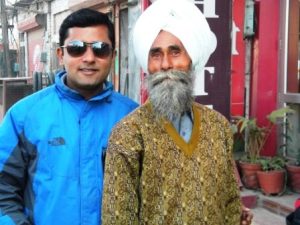 Day 12: 13th March 2014
Hotel City Heart was great. It was our first night on planes after a joyful Himalayan ride. Rupnagar is a wonderful city and another site for the Indus civilization sites.
After having our usual breakfast of aloo parathas, we hit the highways towards the south.
Around 10 am, we started crossing the great city of Chandigarh. What a neat city it is! But we never spend more time in such places, hence moved on without any site seeing. We had a glimpse of India's first Walmart outlet (lol.. wasn't much excited).
By noon, we reached our first stop for the day, the great war ground of Mahabharata – Kurukshetra. Haryana's one of the oldest cities.
We headed towards 'Brahma Sarovar' in the old Kurukshetra. This is one of the holy sarovar (holy water lake) for Hindus and carries ancient stories. It is also known as one of the largest man-made tanks in Asia.
We entered the place from Bhim Ghat. It was an amazing view. Huge water body with temples in the middle on a small island.
Srikrishna Museum – probably one of its kind. The museum dedicated to Lord Krishna is one of the attractions of Kurukshetra. Due to the time limit, we couldn't see it but kept it on the to-do list for a future trip.
Lalit was exhausted but holding up. It was the longest ever trip for him in his life. He was happy and thrilled.
NH 1 soon brought us to our capital city Delhi. As expected, the ring road was the worst in terms of traffic. We couldn't catch a break. It was like a crowded sea full of vehicles and humans. Radhe Krishna statue at Mukarba Chowk was the best highlight of our Delhi time.  This made us leave the city limits as soon as possible. Our Classic 500 was cruising towards Uttar Pradesh.
Well! Ohh…I meant hell. Delhi to UP road was a bad experience. We spent our entire evening in traffic on the damaged road. We rode until midnight just to end up with the worst part of the day yet.
After running for 400+ Km in a day, we deserved a nice sleep so we took an A/C room at a roadside hotel. Hell… our A/C was tied with an undergarment and the room was full of mosquitoes. It's UP – the hotel owner will not give our money back so we end up sleeping (?) in it. Thanks to the mosquito coils we had packed with us.
Day 13: 14th March 2014
It was a new morning and we decided that we will not let our day be ruined by the night experience. Positivity brings good gifts.
When we reached Vrindavan's Banke Bihari temple, to our surprise, it was full of music and colors. In our journey, we had forgotten about the festival of colors – Holi. Devotees were playing colors in front of the main deity. Red, yellow, pink, purple.. every inch of the temple was full of colors.
Lalit was so agitated as he doesn't like to play with colors. He just wanted to see the lord and get out of the place. Oh my god! While Lalit was trying, dodging and somehow reaching toward the god, a big blow of color landed perfectly on his face. Ha ha ha!!  He gave up and we ended up spending more time enjoying the colors. I still can't remember how that garland landed around my neck. I never took it off 🙂
We were happy.. just so happy and amazed! That's the beauty of such trips. Expect the unexpected.
While roaming in tiny lanes of Vrindavan market (in the colorful getup), we hadn't forgotten to enjoy the famous "Banarasi Pan" and fill our tummies with yummy thandai and lassi of Vrindavan. We somehow washed up and changed ours T's.
Vrindavan is a beautiful town with authentic flavors of culture and food (yum). It's a town of temples. When visiting the town, you can't miss the marble miracle – "Prem Mandir" – one of the most beautiful temples I ever saw.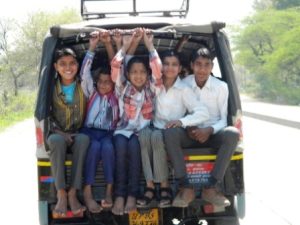 We left with wonderful memories and joy. On our way out of Vrindavan, I kept my speed at a minimum to enjoy the place. There is a huge statue of Devi Durga near Vrindavan.
Making friends and crossing KMs was a routine. You don't need to spend time making friends. We made friends with smiling faces even while running on the highways. These smiles made us forget our fatigue and kept us going. It takes nothing – just smile 🙂
Mathura is the birthplace of Lord Krishna and is one of the most prominent pilgrim places for Hindus. Lord Krishna was born in a jail cell which is now the place of worship. Don't mind friends, somehow we both had not felt that divine calmness here. I am sure it was because of that communal tension in the air and those guards with heavy arms. Why would god need protection? It's only because of those greedy politicians who clouded their minds. Anyways… the main temple itself is very beautiful and had lovely Radhe Sham deities.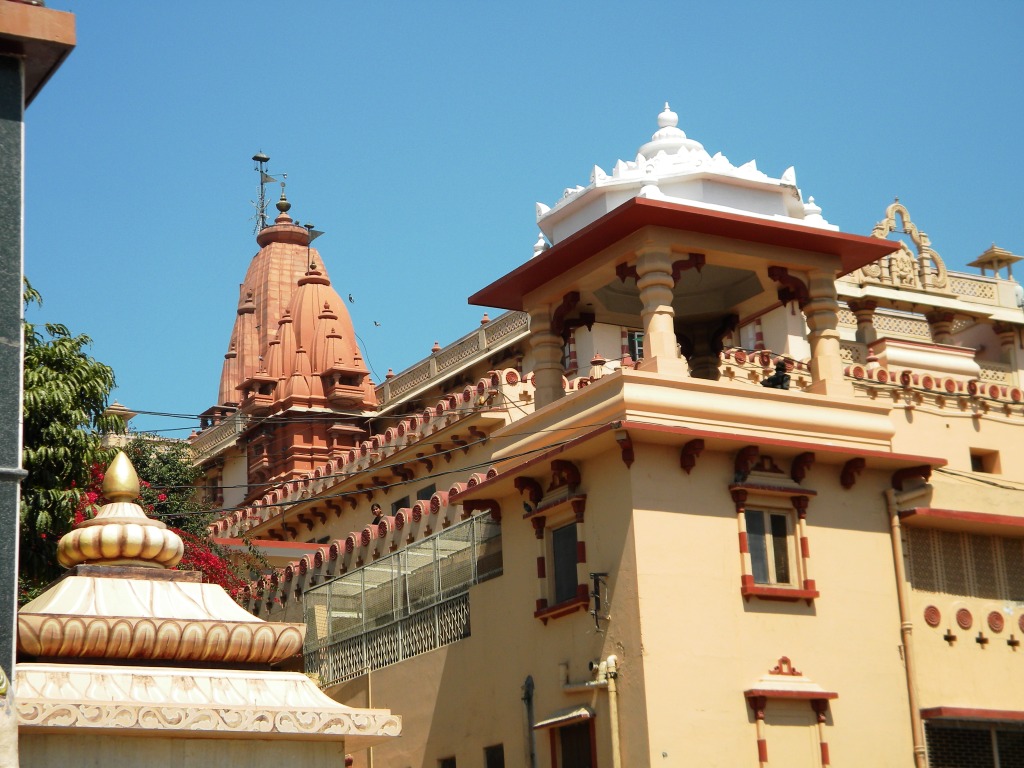 On our way back home, we covered two prominent Krishna dhams. Lalit was all excited to visit Agra. After all, Agra is home to the world's greatest symbol of love – the Taj Mahal. When we thought that the day will end great, it gave us a twister. It was Friday, Jumma. The Taj was closed to tourists as it was a prayer day. That's it! We were done with U.P. and wanted to head back home now and we did.
The bad parts of the day were not over yet 🙂 While searching for something in my bag, I got my finger injured by a sharp cut by a razor blade. Now Lalit realized why I am so particular about packing and keeping things properly. Man.. it was bad bleeding and pain. I put on some bandaid but was having pain while putting clutch every time.
All the pain and tiredness vanished as we saw a mighty Chambal river with all its amazing flora and fauna. We again were crossing Rajasthan. I was continuously telling stories from my earlier trip with Sumedh. Just like any other good pillion, Lalit was saying "Yes" to everything. God knows, how much he could hear 🙂
Day 14: 15th March 2014
Our stay at Gwalior was fine. We started our day early. We wanted to reach home as soon as possible. But… how could we miss the grand fort of Gwalior.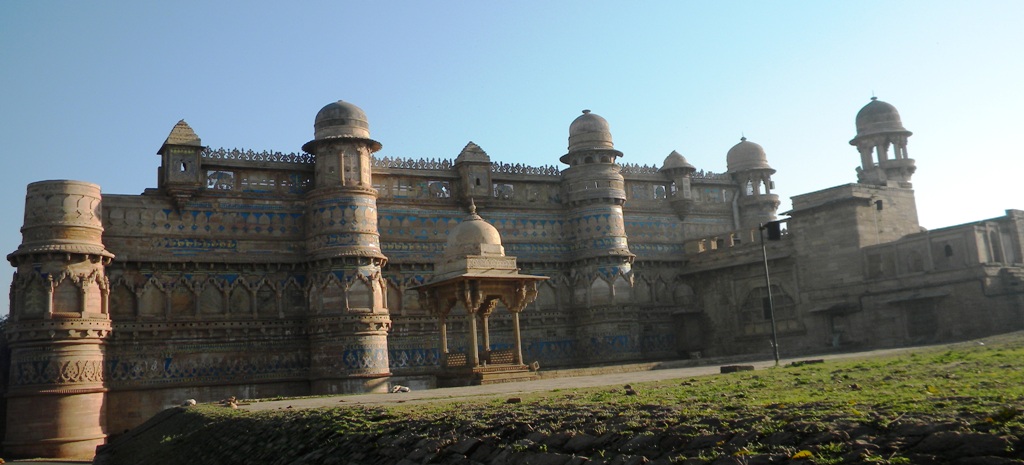 Majestic, beautiful, and awesome. None of the words can describe the fort. The best features include the colorful design on the fort wall, Mansingh Palace, and Man Mandir palace. Being in the early morning, we were the only visitors and could roam around like royals.
Gwalior Fort was a great finishing touch to our 15-day long tour.
Day 15: 16th March 2014
OMG..! It was the worst day. It was a horrible one. Gwalior to Shajapur – the highway was full of potholes and dubber. We will never forget that 400 Km. My hands were swollen badly due to constant clutch and brake usage.
Day 16: 17th March 2014
Via Dhule and Nashik, we finally reached our hometown. Pune…sweet Pune! 750 km in a day. We both were exhausted like hell but were having a smile of accomplishment.
Hats off to Lalit! It was his first long bike ride and he did great! I had gained 5 kgs weight and Lalit had lost 4 🙂
One of the best and most memorable trips of my life! Thanks to my Royal Enfield who did its best!!
Thanks for reading friends! Hope you also get out of your routine life and go on an adventure! Create memories!