< Read previous chapter of the trip – Himachal Chapter I
Himachal Chapter II – Summary
Destinations: Chamunda Devi > Gopalpur Zoo > Baijnath > Kangra > Ranital > Bagula Mukhi > Jwalamukhi > Chintpurni > Bhakra-Nangal (Punjab) > Takhat Shri Kesgarh Sahib > Rupnagar
---
Day 10: 11th March 2014 –
"Lovely wet morning at Chamunda Devi"
A soft sound of raindrops on the leafy forest was a nice music to wake you up. It was definitely a wise decision of halting in the night. It was heavy rainfall all night. I was worried for a moment with a fear of getting trapped in rain and storm but Dadaji's garama garam Chai, classic songs on his radio and the signage board on the gate of the place changed my mood 🙂 Everyone, everything around was wishing us Happy Journey 🙂
Dadaji of 'Shri Naina Devi Dharamshala' is an amazing personality and was pleased with a small gift from us. Everyone was talking about the upcoming storm and advised us not go further towards Shimla. Even 'Vividh-Bharati' radio station and newspaper were saying so.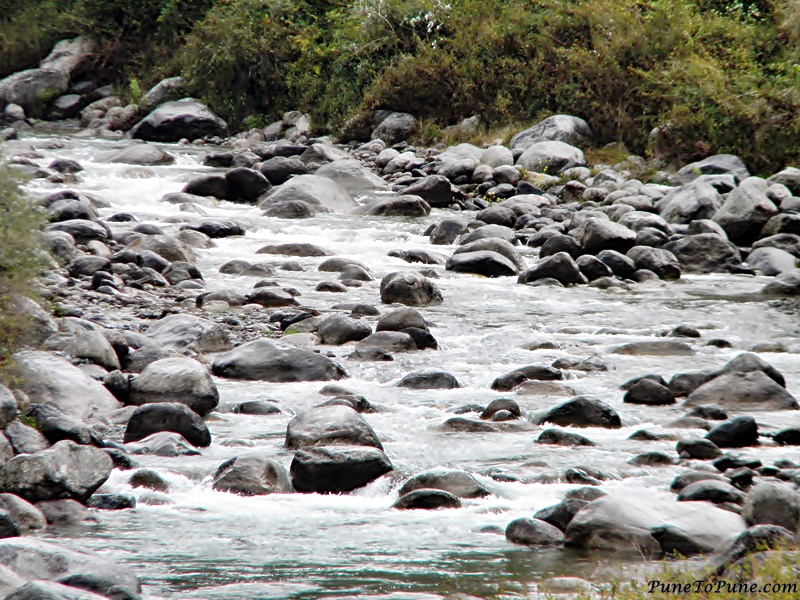 Unknowingly we had halted near famous Chamunda Temple! Wow..! During the fresh wet morning, holy Ban-Ganga river was flowing seamlessly from Himalayan peaks and passing by the Chamunda Devi Temple.
We offered our prayers to Mataji and explored for a while. Colorful statues in and around the temple premises were amazing and looking lively with the background of free flowing river.
The temple is the place where Kali Mata fought a battle and killed demons Chand-Mund. Kali Mata's this incarnation is famous as Chamunda Devi and the temple is one of the prominent pilgrimage centers.
With god's grace or rain's force, we were blessed with Devi's darshan 🙂
Read more about Chamunda Devi Temple
"..on the lap of Kangra Valley"
Pune to Himachal Pradesh motorbike trip..was now converted into a great Himalayan Odyssey. The way forward was beyond the words of descriptions. Lush green surrounding, vast valleys, flowing rivers, colorful houses and just too much more… beautiful and refreshing. We were having our own leisure, pleasure breaks of tea, photography and sometimes just silent scene-watching with still eyes.
Imagine the scene – " You are driving through curvy Himalayan roads and you see a group of Himalayan Black Bears playing on the right side of the road, just 300 feets away"! OMG!
Yes. That's what happened. It took few minutes to realize that we were passing Gopalpur Zoo and those bears were in open compartment which can be seen from the road. Husshhhh! Watching these cute wild animals playing among themselves was a cute moment of life 🙂
"Himalayan Black Bears of Gopalpur Zoo"
Kangra Valley is an amazing gift of Western Himalayas. From Dharamsala to Baijnath, the valley hugs nature's flora and fauna.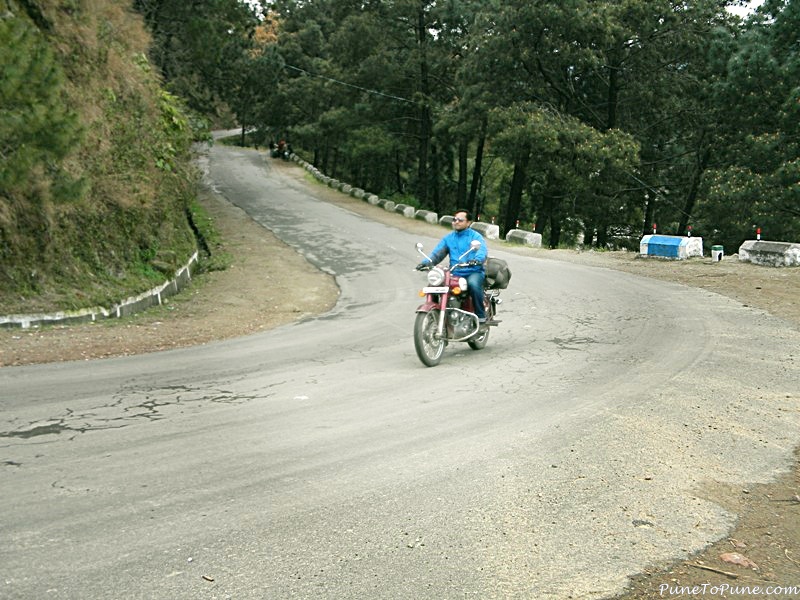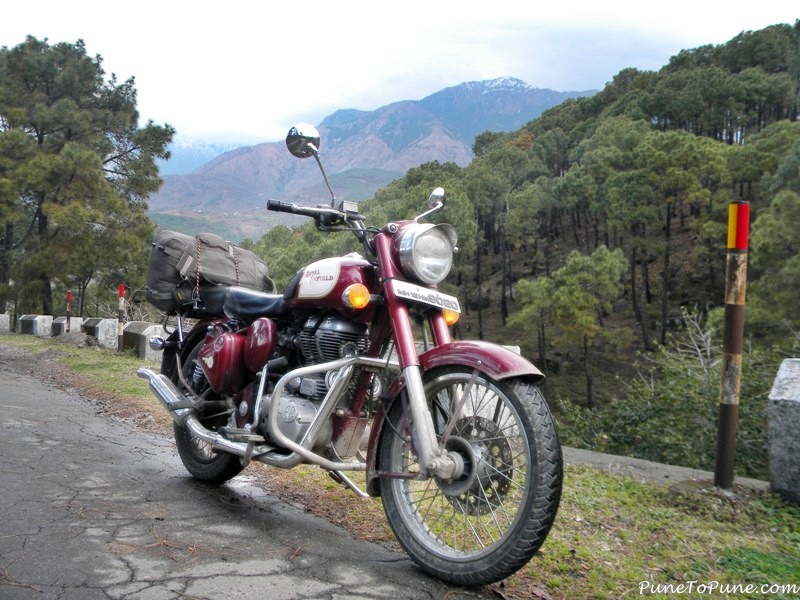 Well.. we hadn't forgotten the weather warning. The cool breeze of cloudy atmosphere kept us going and we soon reached 'Baijnath' – a must see spot on our map.
"Baijnath – a turn-back point of our Pune to Himachal Pradesh motorbike journey"
I was personally curious to see the temple as I heard the conflict of Baijnath temples of Himachal Pradesh and Maharashtra. Both of them claim to be one of the 12 Jyotirlingas. For me, both the places are divine and give equal blessings.
The ancient temple of Lord Shiva is located on the left bank of holy river Binwa. Calm and divine surrounding, white snow peaks of the Himalayas in the background, deep valley of Binwa river and lovely Himachali people.. this place is small but one of the memorable. The 13th-century temple is ornamented well with sculptures and carvings.
After our prayers, I was (as usual) busy with my sculpture-capture moment and Lalit was (again as usual) moving around in relax mood. We were lucky to attain aarati and had our wonderful time. Lovely nature and naughty monkies around the place were added to our diary page. Unfortunately, we had to leave soon as people started talking about the upcoming storm.
Trust me, I was so happy and so upset at the moment. We were very happy the way we enjoyed Kangra valley in full swing but I was very upset to drop the mission incomplete and turn-around. Baijnath was an official turn-back point of our Pune to Himachal Pradesh motorbike journey. Once we turned back, we would only run to reach home sooner (though it was a week journey ahead).
"The Himalayas in the stormy rain.."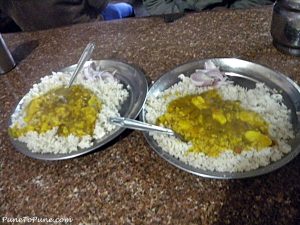 It was started getting darker and soon rainfall started. Initially, I was struggling in the storm with low visibility but soon realized that rain-water started dripping into our inner clothes 🙂 Lalit and I will bever forget the rice and potato curry which came to our rescue in the shivering cold.
Lalit and I will bever forget the rice and potato curry which came to our rescue in the shivering cold. It was small Dhaba on the junction of Baijanath-Kangra diversion. We filled our hungry tummies with 2 rounds of rice curry by the time rain slowed down.
A game of clouds and sun was on. We were climbing down towards Kangra town. The surrounding was becoming more and more beautiful with rainfall like a cute little baby after bath.. with wet hairs and chicks 🙂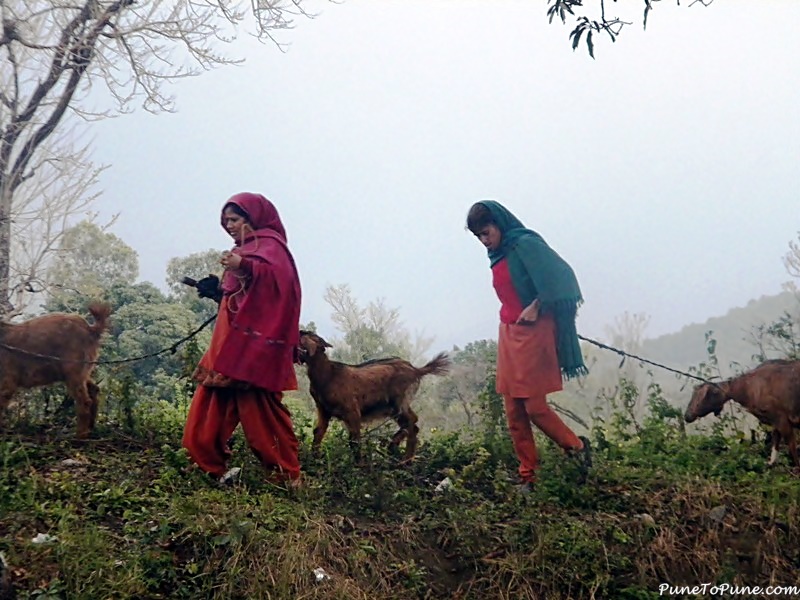 "..time to become brave Kangra warriors!"
We decided to take bypass road to avoid Kangra town as we wanted to cover the distance as much as we can. Not sure if it was a wise decision or mistake. You decide.
The bypass road runs on the bank of mighty Ban Ganga river giving it difficult u-pin curves. It was about to dawn and the rain (probably) was on tea-break. While crossing the ghat section, the mighty scene of royal Kangra Fort amazed us. For a moment I felt that we should have halted in Kangra town for the famous Vajreshwari temple and the fort. As we lost big count of Kms due to rain, I believe it was a wise decision of moving ahead.
It was dark.. pure black dark.. due to clouds and heavy rain. I must appreciate Lalit for his strength he showed on that night. The dangerous ghat region was lonely and the road was heavily damaged too. We were complete wet inside-out. I admit that it was one of the toughest bike runs I did. Ranital was our only hope but was far from sight. We were facing heavy rainfall with blood jamming cold and my bike was facing worst road in the lowest visibility… together we had to make it.. and we made it! A ray of light was shining away.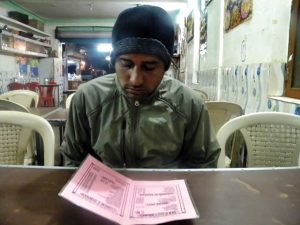 It was the famous Sharma Dhaba near Ranital post office. Oh God..thanks! We rushed into rooms and somehow managed to get something not so wet on our bodies. You should have seen the faces of Lalit and Santosh while they were having their dinner. ha ha. but we were laughing too!
One of the best day of my life! The day which started and ended with rain but filled with an amazing set of memories. We spread our clothes all over the room to get rid of wetness and slept like tired brave soldiers who just came back from a day-long war 🙂
Read next chapter of the trip – Himachal Chapter II >
---
Keep Reading Pune to Vaishno Devi on motorbike trip story:
Gujarat Chapter – Swaminarayan Temple Bharuch, Gandhinagar, Shamlaji Temple
Rajasthan Chapter I – Shrinathji Temple Nathdwara, Charbhuja Temple Garbhor, Kumbhalgarh
Rajasthan Chapter II – Ajmer Sharif Dargah, Pushkar, Merta City, Karni Mata temple Deshnok, Bikaner
Punjab Chapter – Firozpur, Harike Barrage, Golden Temple of Amritsar
Vaishno Devi (Jammu) Chapter – Baba Dhansar, Vaishno Devi, Amar Palace Jammu
Himachal Chapter I  – Pathankot War Memorials, McLeod Ganj, St John in Wilderness, Dharamsala,
Himachal Chapter II (You are here) – Chamunda Devi, Gopalpur Zoo, Palampur, Baijnath, Kangra Fort,
Himachal Chapter III – Jwalamukhi, Bagula Mukhi, Chintapurni,